THE St. Louis Personal Injury Law Firm.
There is no charge to speak with an attorney.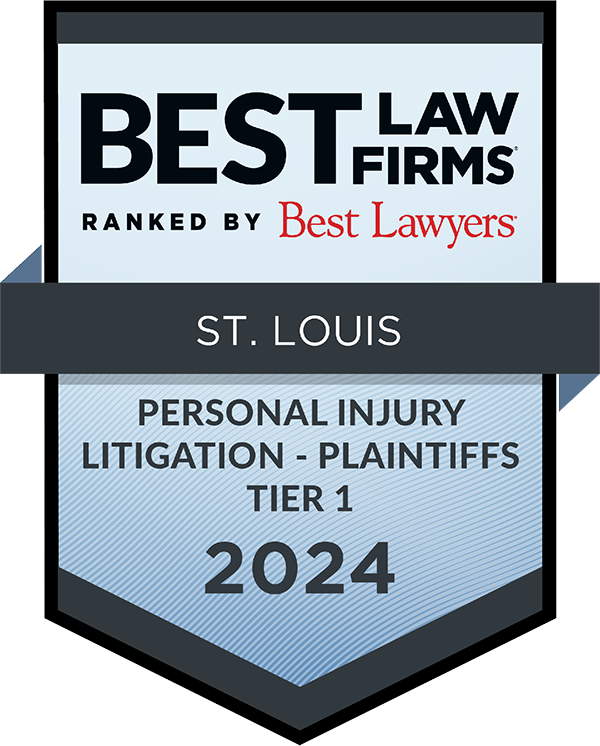 Trucking Accident – Wrongful Death
Trip & Fall Premises Liability
In rural county for brain-damaged infant
St Louis Personal Injury Lawyer & Workers Compensation Law Firm
An accident can change the course of a life in an instant. Suffering an injury and getting through the healing process can be challenging enough, but then come the medical bills and lost work wages. Some accidents are truly accidental in nature, but there are a vast number of them that can be ascribed to another's fault, wrong-doing, or downright negligence. In Missouri, accident victims can seek compensation under the law for injuries sustained because of another's fault. A lucrative settlement package or court-awarded compensation cannot undo a victim's pain and suffering, but it can alleviate the burden of financial stress.
Wolff & Wolff Trial Lawyers has nearly a century's worth of experience helping clients achieve the fair settlement they deserve after they've been injured in an accident. We've helped thousands of clients recoup millions in damages. Our attorneys are diligent about helping clients navigate the legal process. We are passionate about representing our clients' interests in the courtroom or at the negotiation table. If you are hurt in an accident, let our attorneys examine your claim. We have a proven track record for success and we want to help you achieve the justice you deserve. Wolff & Wolff Trial Lawyers is based in St. Louis, MO, but represent clients throughout the greater midwest region.
Have You Been Injured in an Accident?
If you've been injured behind the wheel of your car or on someone else's property because of another's negligence, you may be entitled to compensation. Our attorneys have experience investigating these types of claims. Sometimes clients only have limited information about an accident. We have the skills and resources needed to obtain information about accidents, information that can help support clients' claims. We investigate many different types of personal injury cases. You can trust us to provide you with the personalized attention you deserve.
St. Louis Personal Injury Attorneys
Wolff & Wolff Trial Lawyers understands all aspects of Missouri personal injury law. In order for injured victims to win their claim, they must be able to demonstrate that their injuries are legitimate and have been caused through the negligence or wrong-doing of another. In some cases, the fault is plain and the evidence demonstrating so is straightforward. Sometimes, the case is complicated. For instance, in a slip and fall injury, is the property manager or property owner more at fault. Can fault be assigned to each? How much? Is the victim at any way at fault? In Missouri, victims who share some of the blame for an accident can still be eligible for compensation. This is where the skills of an experienced attorney can help.
Why It's Important To Hire A Personal Injury Lawyer In St Louis Right Away:
An Attorney Will Help You Determine If You Have A Claim.
Often times, people are not sure if they have a claim. After talking to you, we will help figure out if your claim has merit. We will investigate as quickly as possible to let you know one way or the other if we can help. We will shoot you straight and give you the honest answer, even if it is the difficult one.
Hiring An Attorney Early Helps Protect The Evidence.
Many incidents are video taped and the tapes are only preserved for a short time before they are erased. Your car may be towed away or sent to the junk yard before it is photographed. Memories fade as well. Witnesses can disappear or have their recollections corrupted by insurance company employees or the passing of time.
Frequently we see errors in the police report or medical records. If these errors aren't discovered and fixed quickly, it could be implied that you agree with these incorrect conclusions within these critical records. These uncorrected mistakes can significantly hurt your case.
An insurance company may be calling you asking you to give a recorded statement or sign papers before you are properly prepared to give a statement or know the full extent of your injuries after a trauma or injury.
A St Louis Personal Injury Lawyer Will Help You Get More Money Than You Could Get On Your Own.
Insurance companies may offer you the value of your medical bills and maybe a little bit more, when they know that your claim is worth much more than that so that you sign a release before knowing what your claim is really worth.
Wolff & Wolff Trial Lawyers boasts a wealth of experience negotiating and litigating personal injury cases in Missouri. We have experience in the following areas of personal injury law:
If you experience a personal injury that's not associated with these listed areas, be sure to contact our firm in any case. During our tenure, we have successfully litigated and negotiated claims involving other personal injuries, including skiing accidents, sports injuries, and more. If we cannot take your case, we can certainly recommend a qualified attorney who can.
How Can Wolff & Wolff Trial Lawyers Help You?
When you present us with your claim, we can investigate it from every angle. We won't let a detail go unnoticed. After scrutinizing the case, we can present you with our careful assessment. We'll be able to note its merits as well as its challenges. If we find that there are questions left unanswered, we'll investigate to fill in the blanks. We have many resources at our disposal. We may need to procure video if it exists or obtain further witness statements. In short, we'll do everything possible to support your claim and right to fair compensation.
An Overview of Our Services
First, we want our clients to know that we don't regard them as mere case files. Each client is important to us and we value the trust they place in our team. We take time to get to know our clients and their stories. Each client's claim requires a set of custom solutions. That's what we offer—specialized service based on our years of experience and legal prowess. When you contract with us, you can expect services such as:
Evaluate the personal injury claim
Investigate the case
File court documents
Manage all case-related paperwork
Communicate with at-fault party's attorneys
Communicate with at-fault party's insurance company
Review paperwork
Provide timely updates to client
Litigate or Negotiate aggressively
The attorneys of Wolff & Wolff Trial Lawyers also strive to answer client's question as soon as possible. Naturally, you can count on us to provide you with knowledgeable legal guidance throughout the entire process.
Is There a Time Limit for Filing a Personal Injury Claim in Missouri?
In Missouri, claimants generally have five years from the date of their accident to file their case with the court, but the time frame varies depending on the type of case in question. For cases that involve a wrongful death suit, the claimant has three years from the time of the event to file their claim. From the moment you contact us, we'll help you keep track of all court deadlines and filings.
How Long Does It Take to Achieve a Settlement or Win Compensation?
In some instances, clients have been able to settle their claim within weeks. At other times, cases can drag on beyond a year. Although there's no way to definitively say how long a case will go unresolved, we can say that most of these claims are resolved without litigation, so that means they tend to be resolved more quickly. Many defendant's and their insurance companies want to avoid court if possible. They know that we are going to fight for our client's rights and they have access to the same evidence that we do. In many cases, they understand precisely where the fault lies and are willing to offer a settlement.
If we the defendant is unwilling to offer a settlement or admit wrong-doing, we can pursue the matter in court. We've argued before judges and juries on behalf of our clients. We are aggressive litigators and will pursue every angle in order to achieve our goals.
Why Is It Important to Hire a Personal Injury Attorney Early?
There is a plethora of reasons why it's helpful to hire a personal injury attorney early. For instance, if you were involved in a car accident, your vehicle could possible be towed away before it's been photographed. These photographs could be important for your claim. If you slipped and fell in a convenience store, the incident might have been caught on the store's security video. These tapes may not be preserved for a lengthy period of time, making it crucial to procure them as evidence. Witnesses can be difficult to track down as time goes by and they may prove forgetful after a month or even years go by.
When we have the opportunity to investigate a claim in its earliest stages, we have the best chance for recovering the most helpful evidence. Moreover, we will pour over medical records and police reports, which may contain errors. If we discover these errors early on, we can have them repaired before they can damage your claim.
Did you know that it's common practice for insurance companies to call you in the earliest days of your recover and ask you to provide a recorded statement? They might even ask you to sign paperwork before you even know the full extent of your medical condition. Insurance have one thing in mind: their own best interests. They will do everything they can to negate your claim or reduce the amount they could have to pay out. When clients invite us to represent them, we can handle these insurers right from the start. We know how to protect your interests. And—they know we know how to protect your interests.
How Much Compensation Will I Be Awarded?
Wolff & Wolff Trial Lawyers has years of experience addressing issues related to personal injury law and compensation. According to Missouri law, victims of an injury that was caused by the negligence or wrong-doing of another party may be eligible to win compensation for:
Missed Work
Future Missed Work (especially common in cases involving sever injury or permanent disability)
Current Medical Bills
Future Medical Bills (for individuals who will likely require on-going or long-term medical care such as future surgeries or physical therapy)
Physical and mental pain and suffering
Property loss or damage
Each case is different so each compensation calculation is going to look different too. We take into account the claimant's salary, their ability to continue to work in their chosen career, and the suffering they've endured. For highly complex cases, it's sometimes necessary to consult with a medical expert about the nature of the clients' future medical needs—and their costs. We can also consult with an actuary to better determine what future monetary losses might look like for the claimant. All of this is factored into the amount.
Knowing this amount is essential for negotiations. Defendants may try to offer an amount that is far less than what the client deserves. On the other hand, if they make a fair offer, the client may choose to settle as so many do.
If there is no acceptable settlement, we can litigate the matter in court. If the jury or judge finds that the defendant is completely responsible for the accident, the claimant is likely to win their requested amount—or near it. If the defendant is found to be 80% at fault, they will be held required to supply 80% of the compensation amount.
Let Us Represent You
If you've been seriously injured, you deserve competent legal advice and experienced representation. Wolff & Wolff Trial Lawyers can provide you with a free initial consultation to discuss your claim if you've been injured in Missouri. Our goal is to help people who have been hurt by others. They've suffered an injustice and we want to do our share to right it. Compensation is a right for victims of accidents caused by others. We will work hard to help you win the fair compensation you deserve. Contact us to schedule your consultation.



Important Disclosure

The Missouri Bar requires a disclosure that contacting an attorney on this website does not constitute an attorney client relationship. Legal advice is not given here and any past case results listed have no bearing on what your case might be worth. Every case rises and falls on its own particular merits.